Marine adventures are a fun and exhilarating way to explore the beauty of the ocean and its underwater wonders. From scuba diving and snorkeling to kayaking and paddle boarding, there are endless opportunities for adventure on and under the waters, and Belize is among the top destinations for such adventures.
Belize is a small Central American country known for its rich marine life, pristine beaches, and stunning coral reefs. With over 400 islands and cayes, Belize offers an incredible range of marine adventures that are guaranteed to leave you breathless. Among the most popular spots in Belize is Shaka Caye, an all-inclusive private island resort located 9 miles from the mainland, Belize City, and a mile away from the second largest barrier reef in the world. Here are some exciting marine adventures you can look forward to when staying at Shaka Caye Island Resort.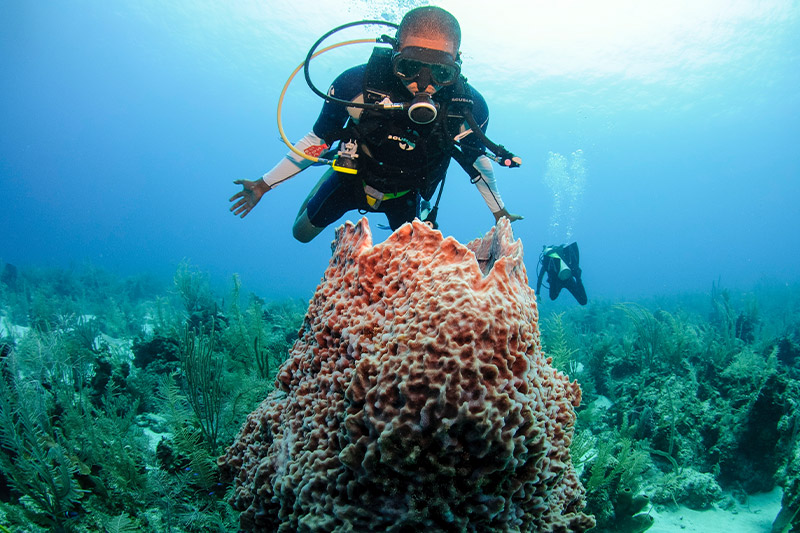 Snorkeling and Diving at the Barrier Reef
Shaka Caye is just a mile away from the barrier reef off the coast of Belize, which is home to over 500 species of fish and hundreds of varieties of coral. You can explore the reef by snorkeling or diving, both of which are popular activities in Belize. If you're new to diving, our certified instructors can teach you the basics and take you on your first dive. Another popular spot to enjoy diving and snorkeling is Gallows Point, a five-mile section of the barrier reef and home to the endangered hawksbill sea turtle. Gallows Point is also just 20 minutes from the island. Plenty of corals are seen while diving along the wall, and most often seen here are spotted eagle rays, angel fish and trumpet fish, and many more.
Manatee Search
A manatee search is one of the most unique marine adventures you can experience at Shaka Caye. Manatees, also known as sea cows, are gentle creatures that live in the waters around Belize and are classified as endangered under Belize's Wildlife Protection Act. They are slow-moving and curious, making them easy to spot if you know where to look. You'll board a boat with a guide who will take you to areas where manatees are known to congregate. With a little bit of patience and some luck, you'll be able to spot these gentle giants swimming and frolicking in their natural habitat.
Caye Caulker Island Hopping
Caye Caulker is a charming little island located off the coast of Belize. It's known for its laid-back atmosphere, colorful buildings, and vibrant street art. One of the best ways to experience Caye Caulker is by hopping from one bar or restaurant to another, trying local dishes, and sipping on refreshing drinks. You can also go shopping for souvenirs or take a dip in the crystal-clear waters surrounding the island and at the famous Split.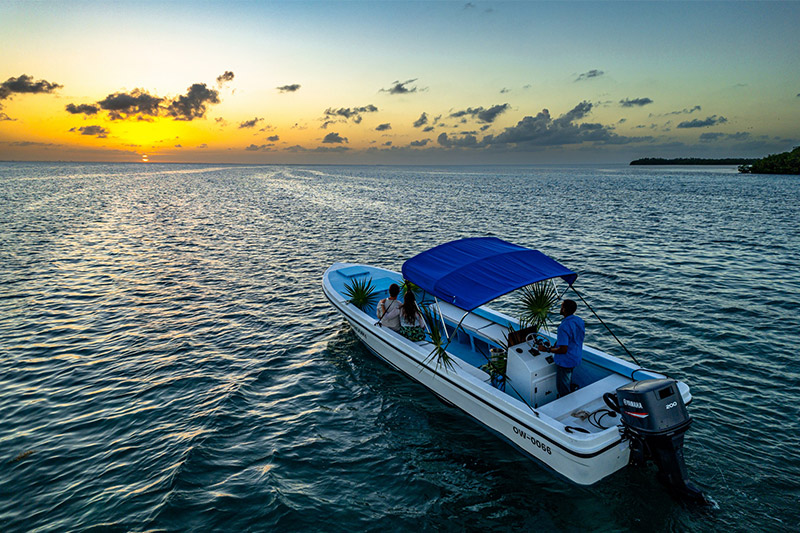 Sunset Cruise
There's nothing quite like watching the sun set over the water while you're sipping on a cocktail and feeling the sea breeze on your face. At Shaka Caye, you can take a sunset cruise and experience this magical moment with your loved one. You'll board a boat and sail out into the open sea, watching the colors of the sky change as the sun dips below the horizon. It's a truly unforgettable experience that you won't want to miss.
Kayaking and Paddle Boarding
If you prefer to explore the waters around Shaka Caye at your own pace, you can use the complimentary kayaks or paddle boards and go on your own adventure. Kayaking is a great way to get up close and personal with the marine life around the island, while paddle boarding is a fun and challenging workout that will leave you feeling invigorated.
So, if you're looking for the ultimate marine adventure, look no further than Shaka Caye Island Resort in Belize. With its newly updated villas, convenient all-inclusive packages, and friendly staff, you can relax and focus on exploring the beauty of Belize's marine life. Now, pack your bags, grab the sunscreen, and get ready for the adventure of a lifetime! Contact us to book your stay.