Where is Belize and Shaka Caye
Located in one of the best areas of Belize, Shaka Caye is on Little Frenchman Caye, 1/4 mile northeast of St. George's Caye, and is remarkably close to the Great Barrier Reef. We are also near Belize City, so we are very close to hospitals and civilization.
The best and easiest location to reach in the Caribbean. Only a beautiful 25 min boat ride from Belize City.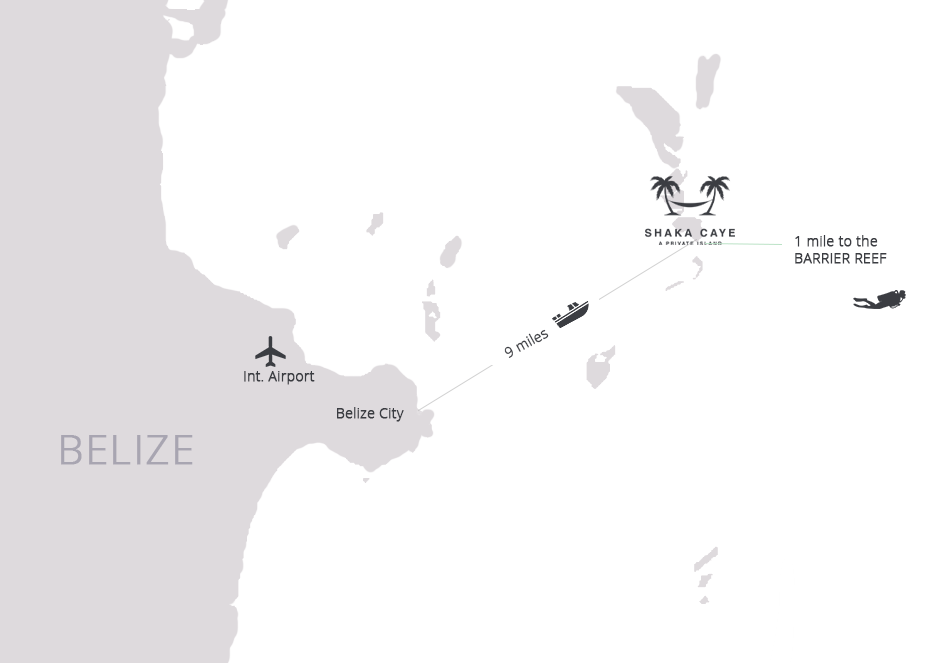 How do I get to Shaka Caye?
This is the best part! Simply fly direct to Belize City (BZE – Phillip Goldson International Airport) we will have our chauffeur waiting to pick you up from the airport and take you to our private marina, where our captain will take you on a beautiful 25-minute scenic boat ride to our Island! There are no dangerous commuter flights, long shuttles, layovers, or time-consuming transfers!
Shaka Caye insists on pampering our guests by allowing guest arrivals 7 days per week. We work around your schedule for complete guest flexibility.
What are the check-in and check-out times?
When we have guests checking out the same day, the earliest arrival time to the island is 3:00 p.m. The latest departure time from the island on check-out day is 11:00 am
Are late boat transfers and late check-ins allowed?
For safety reasons, we have a strict policy of only offering boat transfers during daylight hours. If your flight arrives in Belize too late in the day we will gladly make arrangements for an overnight stay on the mainland and transfer you to the island the following morning.
"My husband and I came here for our wedding anniversary.
The location and the staff made our trip better than we could ever imagine."