Shaka Caye Island Resort is one of Belize's "newest" all-inclusive private island resorts. We say new because Shaka Caye, once known as Royal Palm Island, recently changed ownership, and along with a new name came a new look and feel for this Belize private island you'll want to visit. Shaka is derived from the universal phrase "hang loose," which means chilled, relaxed, easy, and fun, which is the new attitude and the culture of our beautiful private island. Shaka Caye, located on Little Frenchman Caye, is just a half mile from the world's second-largest Barrier Reef and a quarter mile northeast of St. George's Caye and is easily accessible through a scenic 25-minute boat ride from Belize City. Our captain will meet you at our dock in Belize City and transfer you to the island. With over seven acres of white sand beach, only five stand-alone beach villas, and just a few guests on the island at any given time, we can guarantee a truly private island experience, perfect for ultimate relaxation and rejuvenation.
Our Belize private island provides 5-star amenities that are sure to please even the most meticulous traveler. From our open-air onsite restaurant that serves mouth-watering Belizean-inspired meals, using fresh locally sourced produce, to the exciting marine adventures, some just a short boat ride away from the island. Shaka Caye is the epitome for snorkeling and diving in Belize due to its close proximity to several of the country's top sites. In addition to snorkeling and diving, the waters surrounding Shaka Caye offer a wide range of saltwater fishing opportunities, and the island is home to some of the best fishing guides in the country. No matter what time of the year you visit, you will undoubtedly enjoy some great catch, which our chef will gladly transform into an excellent meal for you. If adventure is what you seek, you can also inquire about our inland tours to discover more of what Belize has to offer.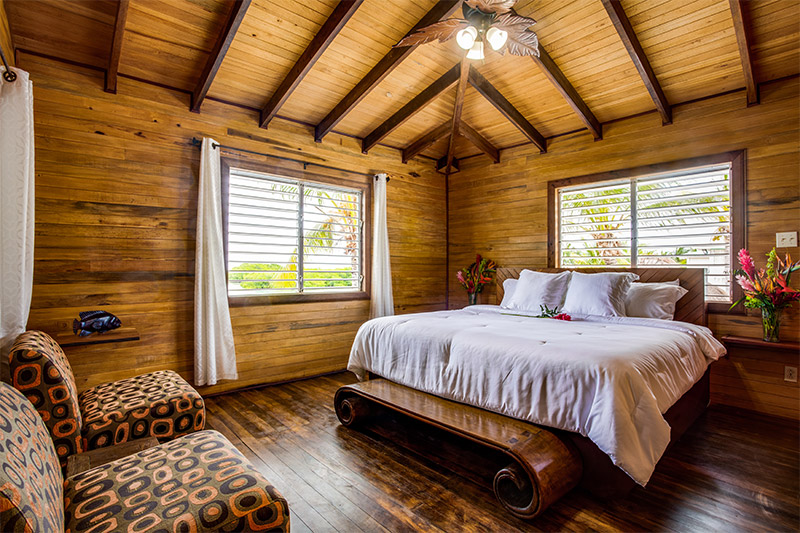 Our unique beachfront villas offer the comfort and privacy you deserve, with spectacular views of the Caribbean Sea and direct beach access. Each villa has two spacious rooms with private baths, an open-concept lounge area, a kitchenette, and a private deck with a hammock and sitting area overlooking the beach, perfect for relaxing and taking in the invigorating sea breeze and breathtaking views.
Shaka Caye now offers a truly all-inclusive Belize vacation. Our all inclusive package includes everything you need for an unforgettable getaway, including lodging, meals, and, of course, drinks! Check out our package add-ons for the ultimate luxury experience. We encourage you to visit soon as we continue to improve the island in hopes to provide you with an unforgettable vacation on our little piece of paradise.