Are you ready for an all inclusive vacation? Ask anyone who appreciates all-inclusive getaways, and they will give you a long list of reasons why an inclusive vacation is the most cost-effective way to travel. According to travel experts and adventure seekers, all-inclusive vacation packages are gifts that keep on giving because all that is required is to check in, unpack, and get a quick introduction to the resort grounds while sipping on your welcome drink, because lodging, meals, drinks, and other perks are usually included in one price. Shaka Caye Island Resort now provides a truly all-inclusive vacation getaway for your money. Our all-inclusive package alleviates the worry of planning by providing exclusive beachfront accommodations, exciting activities, excellent cuisine, and unlimited local alcoholic drinks.
What distinguishes us is that there are no lengthy trips before reaching your destination! We are only a 25-minute boat ride from Belize City, so you won't have to take another long drive or flight to begin your vacation! The ideal tropical holiday involves lying on the beach and enjoying the cool wind without having to arrange anything. Shaka Caye Island Resort offers the best white sandy beach in Belize, with turquoise waters surrounding the island, making it ideal for an Instagram-worthy shot. Because we are one of the only private islands in Belize with a cell tower, we have an advantage over others because phone service and Wi-Fi are available throughout the property. This allows you to stay connected with loved ones while also sharing stunning photos from your private island!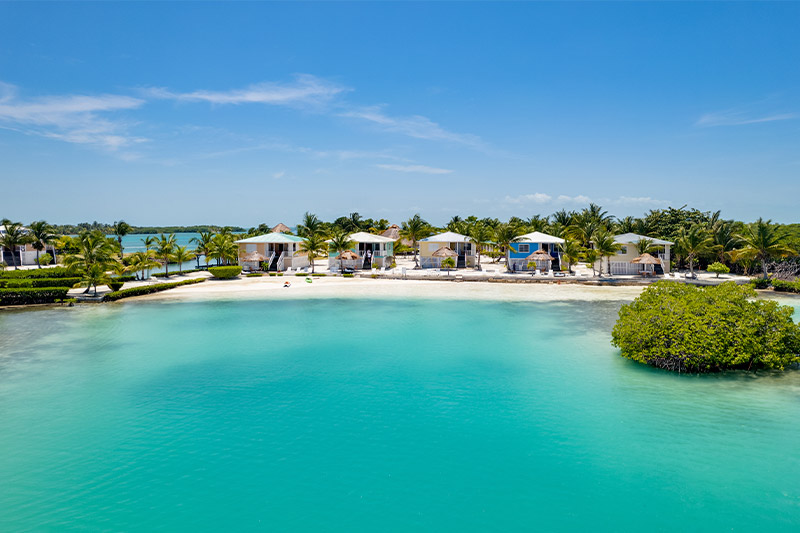 Our all-inclusive package at Shaka Caye features a beautifully furnished deluxe air-conditioned 2-bedroom beachfront villa with direct access to the Caribbean Sea and seven acres of gorgeous white sandy beach. Step outside to your private deck, which includes a sitting area and a hammock. Enjoy the stunning scenery and relaxing sounds of your tropical getaway. Yes! You are in paradise!
While there is much to see and do in Belize, many people come to experience the world's largest living barrier reef, the Belize Barrier Reef, which stretches for 192 miles and is a spectacular playground for snorkelers and divers alike. This magnificent attraction is only a short boat trip from Shaka Caye and is available as an add-on to your all-inclusive package. Because Belize is a world-renowned fishing destination, you can combine your vacation with a terrific fishing trip for the ultimate fishing adventure. This Belize private island is strategically located near the reef and features bountiful waters, allowing you to catch fantastic fish not far from the resort. Diving in the Great Blue Hole is also a great addition to your stay. Not only can you add marine adventures to your package, but you can also inquire about in-land tours to popular adventure sites in Belize.
When you think of the Caribbean, you automatically think of white sandy beaches, brilliant blue skies, and a sea that stretches all the way to the horizon – Shaka Caye has all of that and more! Shaka Caye allows you to schedule your stay any day of the week, and with daily transfers provided at your convenience, you won't have to worry about missing your boat ride to the island. It's time to unwind in Belize with an all-inclusive vacation getaway at Shaka Caye Island Resort – contact us today to start planning your trip!