Shaka Caye in Belize is the mecca for those interested in unique fishing tours.
All kinds of fishing—spin, fly, and trolling can be experienced all year long, and the abundance of game fish guarantees excellent sport.
Belize fishing tours can be booked individually or as part of a package.
The estuaries, inlets, and mouths of the many rivers are known for their tarpon, snook, and jacks. The lagoons and grass flats are known for the bonefish, permit, and barracuda. The coral reefs support grouper, snapper, jacks, and barracuda, while the deeper waters off the drop-off are home to sailfish, marlin, bonito, and pompano.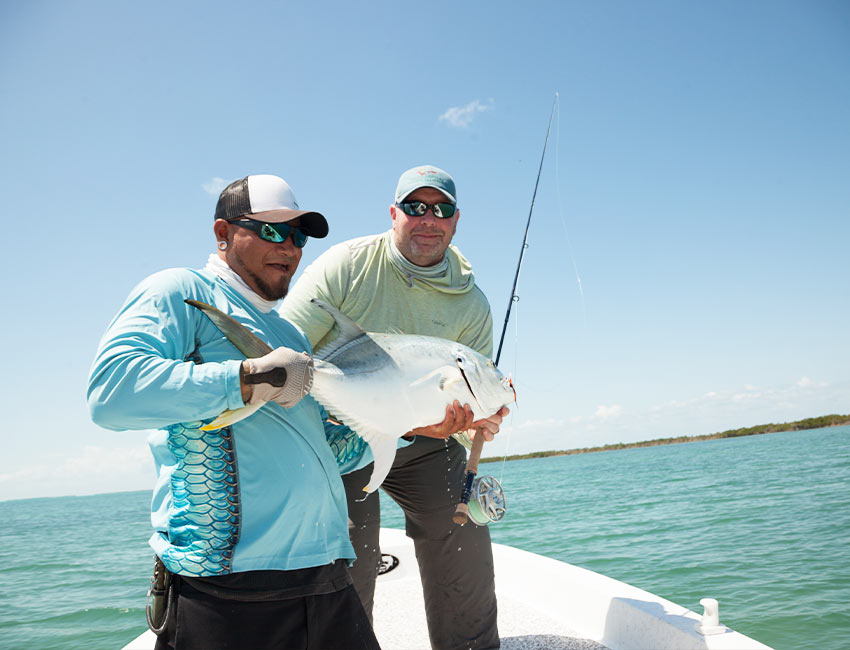 The waters surrounding Shaka Caye abound with a great variety of saltwater fishing, and the island boasts some of the best fishing guides. Most fish, including bonefish and tarpon, can be caught year-round. Within 15 minutes of leaving the dock, you can be fishing in tidal flats or blue water hundreds of feet deep.
Tarpon remains the primary attraction in the area, although they are all the reef species, barracuda, snook, snapper, grouper, and of course, the ever-present bonefish and occasional permit. These are really a sidelight, though, because this is tarpon fishing the way everyone dreams it should be! The flats are situated only a mile or so from the blue water and are constantly replenished with fish from the deep. White sand bottoms with occasional patches of turtle grass provide an unbelievable background to make these fish very visible in the shallow water. Schools of dozens of fish can be seen pushing water like bonefish from hundreds of yards.
The common denominator for success at Shaka Caye is the weather. Generally speaking, the dry season in Belize extends from March through May. Morning breezes are usually from the southeast during these months and directly from the east during the rest of the year. Since the vast tarpon flats that the fly fishermen are concerned with lie on the western shores of the Yucatan, this affords a protected "leeward" side much of the time.
Although the months of May through November are considered the prime time for flats fishing, the fish are present throughout the year, and any calm days are considered ideal times to be on the water in search of tarpon.
When the wind does raise havoc with the tarpon fishing, the protected and always sheltered coves and lagoons offer a safe and almost guaranteed shot at bonefish. Though the bonefish don't often run large here, there are lots of them, and they provide plenty of entertainment.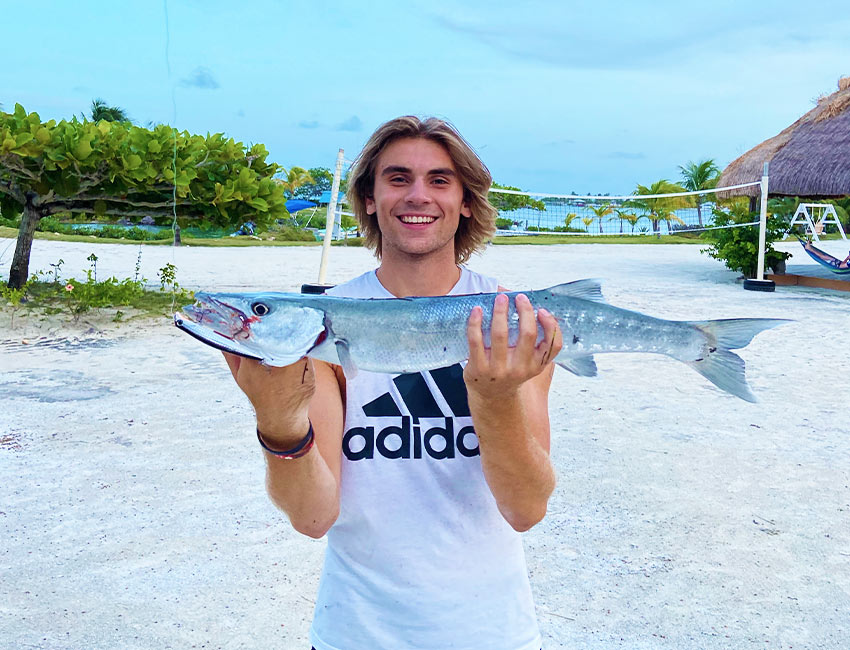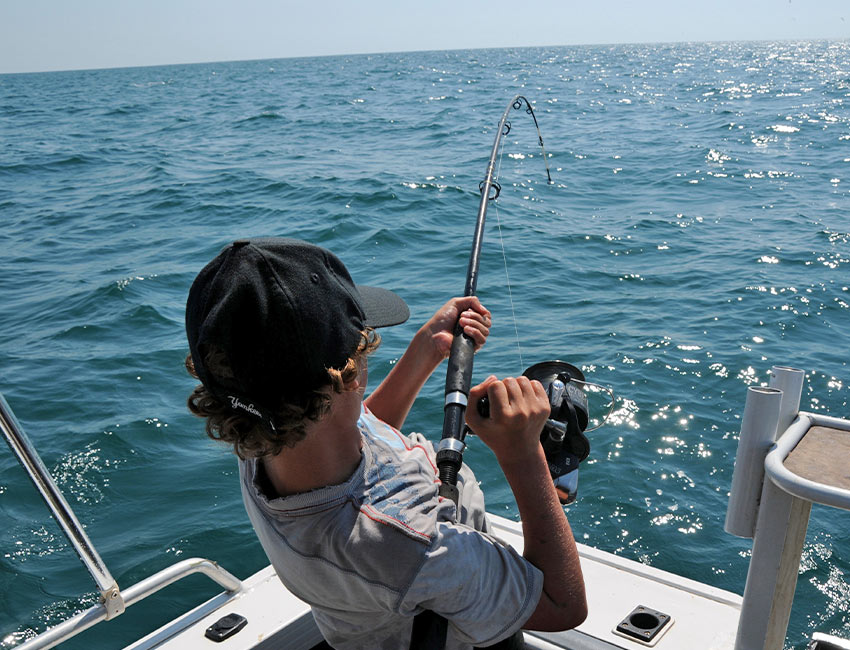 Permits are also frequently spotted in these lagoons, cruising along the inside coast of the Yucatan and on the tarpon flats themselves. It is a good idea for flyrodders to have a spare rod always set up with their favorite permit pattern and an intermediate line in case they get a shot at one of fly fishing's most elusive gamefish!
Barracuda are a common sight in all the water surrounding Shaka Caye. They are challenging but not impossible to take on a fly. Six or seven-inch long fish-hair flies with trailer hooks cast across and stripped back as rapidly as possible in front of the fish is the most successful way to latch on to these toothy monsters. A strike and battle are guaranteed for the spin fisherman armed with a fluorescent yellow tube lure.
Troll Fishing (full day)
US$600 2 Persons Min (Max: 4 persons, $100 for each person after)
Troll Fishing (half day)
US$400 Min 2 persons (max: 4 persons, $100 for additional)
Spin Fishing (drop fishing – half day) 
US$300 Per Couple, $100 for additional (Min 2 – Max: 4 persons)
Spin Fishing (drop fishing – Full day) 
US$500 Per Couple, $100 for additional (Min 2 – Max: 4 persons)

Combination Fishing
US$800 Full Day (Min 2, $150 for each person after, max 4 persons)
Fly Fishing
Contact us for pricing
Day Deep Sea Fishing (full day)
Contact us for pricing

"We also did the snorkeling tour with Hiro - he was so knowledgeable and showed us reef creatures we had never seen before. He also took us lobster spear-fishing and my husband got three! They cooked them for us for dinner that night."