Easter is a time for family, friends, and good times. It is the longest public and bank holiday in the country. Because of its beaches, tropical weather, and easily accessible location, Belize is a hotspot for visitors during the Easter holiday. It is the perfect time to get away from it all and relax on a warm beach somewhere. So, what better place than Shaka Caye Island Resort in beautiful Belize? Shaka Caye is one of Belize's newest all-inclusive private island resorts. Located just a few miles off the coast of Belize City, Shaka Caye offers guests a truly all-inclusive destination without the worries of long, tiresome flights or drives, which is a plus, especially for families with kids. This all-inclusive Belize resort accommodates only a limited number of guests on the island at any given time, which means we can guarantee an unpacked island for your vacation. Book your stay early and enjoy all our private island has to offer.
The resort has all the amenities you need for an enjoyable stay: an onsite restaurant, an open-air palapa bar, a fully equipped media room, and beach cabanas. Our newly remodeled cabanas highlight spacious rooms with modern baths and large windows that let in plenty of natural light and open up to gorgeous panoramic views of the Caribbean Sea right from your bedroom. Each stand-alone cabana also includes a private deck with a sitting area, a hammock, and an outdoor shower by the foot of the stairs, to wash away the salt and sand after a refreshing dip in the Sea.
Our beach is lined with beach beds and lounge chairs that offer you the perfect seat to relax and enjoy the cool Caribbean breeze and views of the turquoise waters that surround the island. If you want more than just relaxing on the beach this Easter, you can enjoy snorkeling and fishing right off the island; or book guided tours to the nearby barrier reef for the ultimate snorkeling and fishing experience. Besides our guided tours, guests can also enjoy complimentary use of our kayaks and paddle boards, which are ideal for taking leisurely cruises around the island.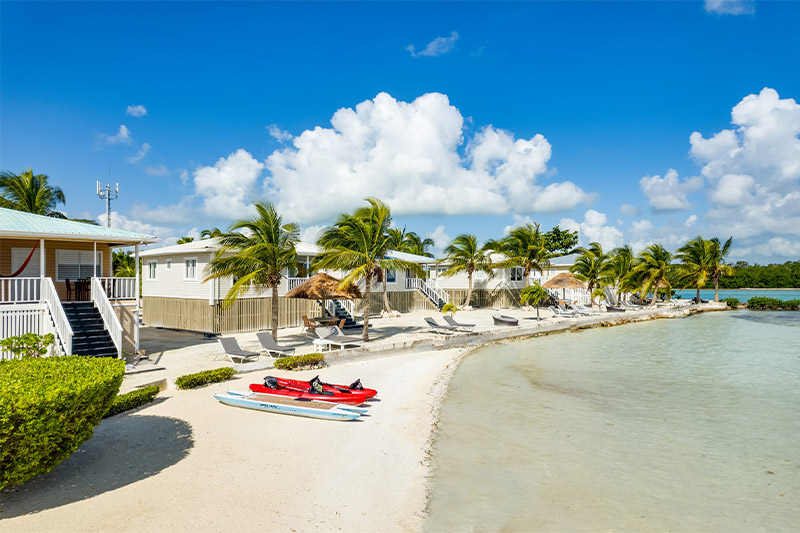 The palapa bar is where friends are made while sipping some of our signature mix drinks, including the Belizean Flag, Mayan Margarita, Watermelon Rum Punch, and Lazy Iguana made with Belizean rum. The best part is that these drinks and more are included when you book your all-inclusive stay with us. In keeping with a traditional Belizean Easter, you can expect our chef to prepare tasty dishes, containing freshly caught fish, traditional hot cross buns, and other delectable Belizean cuisines to keep your appetite content.
Some of the annual events in Belize for the Easter holidays include the Saw Dust Street Decoration and Crucifixion Re-enactment on Good Friday in Benque Viejo Del Carmen, Cayo District. Holy Saturday Cross-Country Cycling Classic Race from Belize City to San Ignacio and back. Easter Monday Horse Race in Burrell Boom Village in the Belize District.
Pro-tip for traveling to Belize during the Easter holidays: Pack cool clothing. Get a head start and book your stay now! Try to arrive in Belize at least a week before the holidays to avoid a crowded airport. Stores country-wide are closed on Good Friday, and some even close at midday on Holy Thursday, so if you need any last-minute items, pick them up before then, and don't forget to bring sunscreen!