Dreaming of a family vacation that blends adventure, relaxation, and a taste of vibrant local culture? Discover the magic of Shaka Caye Island Resort, a hidden treasure nestled in the heart of Belize. This captivating destination promises the ultimate family getaway, packed with endless excitement, exploration, and quality bonding time.
Notably, Belize is conveniently located just a short flight away from several US countries, making it an ideal destination for vacationing with kids. Shaka Caye is a mere 9 miles from the mainland, eliminating the need for tiresome flights or long drives to kick off your vacation.
Shaka Caye caters to all, ensuring both kids and adults are in for an unforgettable experience. The island offers a wide array of family-friendly activities, from thrilling water sports to mesmerizing wildlife encounters, guaranteeing non-stop fun. Imagine your family snorkeling among vibrant coral reefs, paddleboarding along tranquil coastlines, and constructing sandcastles on pristine beaches. With options like beach games and guided inland tours, there's never a dull moment on this island oasis.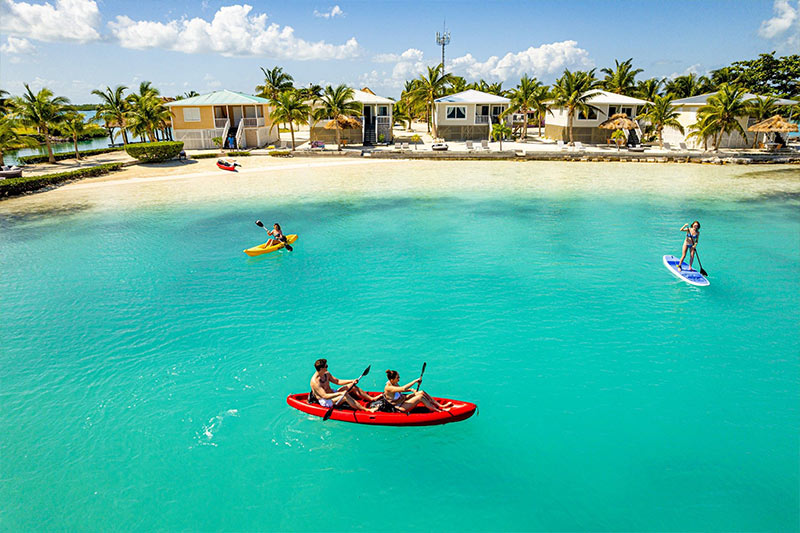 Begin your adventure by exploring mainland Belize. A guided zipline and cave tubing combo tour is a must-do, get a chance to soar over lush jungle canopies and delve into mysterious underwater caves. Unveil the secrets of the ancient Mayan ruins, igniting curiosity and fascination. Then, venture to the "Best Little Zoo in the World," on your way back to our dock, where both kids and adults can interact with Belize's diverse wildlife.
Accommodations at Shaka Caye are designed with families in mind, offering comfort and convenience in equal measure. Spacious family suites provide a sanctuary for parents and kids alike. The resort goes above and beyond to cater to families, with kid-friendly activities such as life-sized chess and beach volleyball and an entertainment room featuring a large flat-screen TV—ideal for family movie nights. Don't miss out on the campfire area, perfect for late-night storytelling and s'mores making.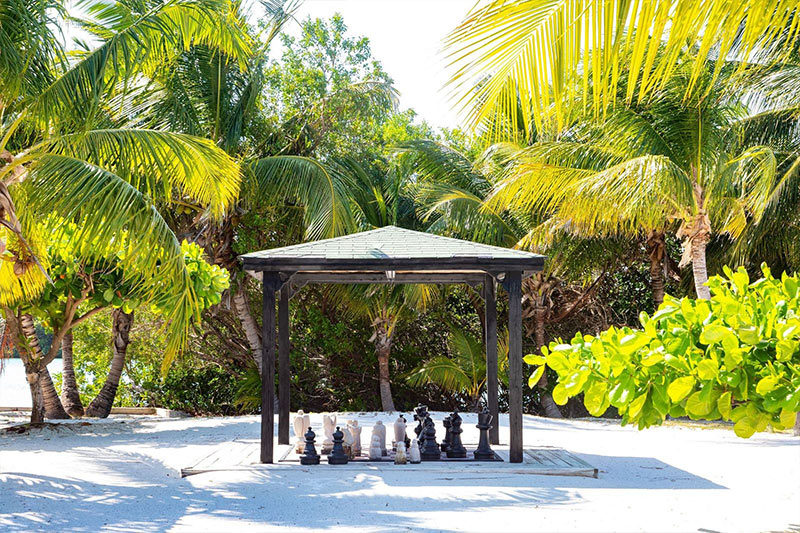 Culinary delights hold a special place in any vacation, and Shaka Caye takes this seriously. Savory Belizean delights are meticulously prepared to cater to every family member's palate. With a variety of dining options, your family can indulge in diverse flavors and relish culinary pleasures.
Ensuring your family's safety is paramount, and Shaka Caye Island Resort prioritizes this with utmost care. Trained guides lead tours, and attentive staff are present throughout the resort, guaranteeing your family's well-being.
As you plan your family escape, consider these sample itineraries that make the most of your time and ensure a well-rounded experience. Start with thrilling adventures on the mainland, followed by relaxing beach days for sandcastle building and sun-soaking. Continue your adventure with guided snorkeling tours to discover underwater wonders, concluding the day with a delightful family dinner at the resort's family-style restaurant.
Shaka Caye encourages families to embrace the local culture through participation in family-oriented events, learning traditional crafts, and engaging with the warm-hearted local community. These experiences forge lasting connections and create cherished memories for years to come.
Traveling with kids is a rewarding journey with its challenges. To make the most of your vacation, pack essentials like sunscreen, hats, and comfortable shoes. Be patient as your family adjusts to time differences, and most importantly, bring along a sense of adventure and curiosity for an unforgettable family vacation!
In summary, Shaka Caye Island Resort in Belize is the ultimate destination for a family-friendly vacation. Offering a diverse range of activities, comfortable accommodations, delectable dining options, and unwavering safety commitment, the resort promises an extraordinary experience for the whole family. Embrace the enchantment of Shaka Caye, where adventure and relaxation harmonize seamlessly, and create timeless memories to treasure. Your family's dream vacation awaits!