Welcome to a world where the ordinary fades away, and the extraordinary becomes your reality. Shaka Caye Island Resort, nestled in the heart of Belize, beckons you to experience the true essence of tranquility and luxury on your terms. If you've been dreaming of a private island escape that seamlessly blends relaxation, adventure, and natural beauty, then look no further.
Basking in Belize's Beauty
Belize is more than a destination; it's an experience that awakens your senses. From the moment you set foot on its mainland, you'll be captivated by the lush landscapes, pristine beaches, and the crystal-clear waters of the Caribbean Sea. Shaka Caye Island Resort sits as a jewel within this natural splendor, offering an exclusive haven for those seeking solace and serenity. And don't forget to immerse yourself in the vibrant marine life and explore the stunning coral reefs that surround the island, adding an extra layer of awe to the natural beauty of the location.
Your Exclusive Retreat
What sets Shaka Caye apart is its commitment to exclusivity. Unlike bustling resorts, Shaka Caye caters to only a limited number of guests on the island at any given time, ensuring that you have ample space to unwind without the crowds. The private island experience is redefined as you're surrounded by the sounds of nature, the gentle ocean breeze, and the feeling that you've discovered your very own paradise. With a variety of accommodations available, including beachfront and oceanview villas, you'll find the perfect setting to make your stay even more exceptional.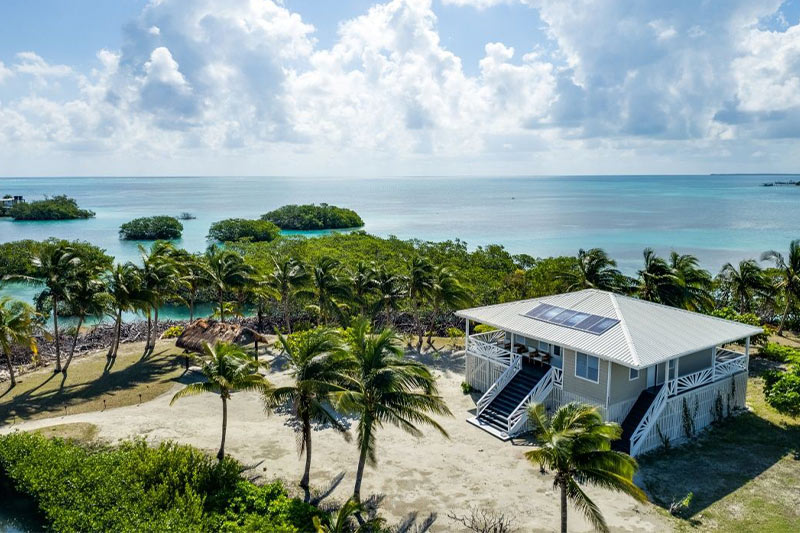 Seamless Relaxation with All-Inclusive Luxury
Planning a vacation can sometimes feel like a job in itself. That's why Shaka Caye Island Resort offers an all-inclusive package that takes the stress out of decision-making. From exquisite dining options that showcase Belizean flavors to an array of adventurous activities and romantic perks that can be added on, everything is seamlessly arranged for you. All you need to do is immerse yourself in the moment and savor every experience.
Indulge Your Senses
No island retreat is complete without a touch of pampering, and Shaka Caye understands that relaxation is an art form. Envision yourself drifting into bliss with a range of relaxing spa treatments that can be conveniently scheduled through the reservations team. Feel the tension melt away as skilled therapists use locally inspired techniques to rejuvenate your body and soothe your soul.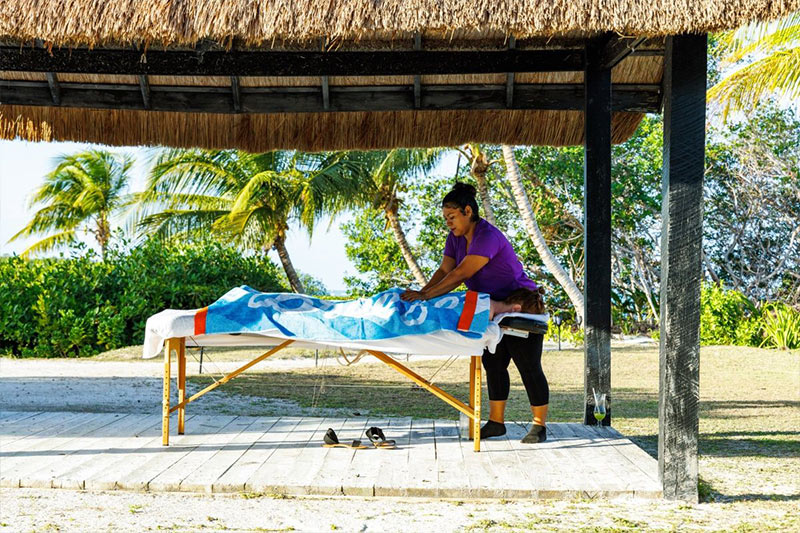 Yoga on the Beach: A Personal Journey to Serenity
While the resort doesn't offer structured yoga classes just yet, the option to practice yoga on the beach is yours to embrace. Imagine starting your day with the rising sun, the gentle sound of the waves as your soundtrack, and the sand as your mat. It's a personal journey towards serenity, allowing you to connect with the surroundings and find balance in both body and mind.
Your Invitation to Shaka Caye Island Resort
Shaka Caye Island Resort isn't just a destination; it's an invitation to escape, rejuvenate, and rediscover the beauty of life. The private island setting, the exclusive guest experience, and the array of carefully curated offerings come together to create a symphony of relaxation and adventure.
Embrace the allure of Belize's beauty and the luxury of seclusion. Let Shaka Caye Island Resort be your guide to an unforgettable journey that's all about you. The azure waters, the pristine beaches, and the warm hospitality of Belize await your presence. Your gateway to serenity and seclusion is here, at Shaka Caye Island Resort.