Picture this: A Belize private island where every detail of your holiday is seamlessly taken care of—from delicious meals and refreshing local drinks to scenic boat transfers that whisk you away to your tropical haven. Welcome to Shaka Caye Island Resort, where an all-inclusive retreat awaits, promising you an unforgettable year-end escape.
Why Shaka Caye for October, November, or December?
All-Inclusive Haven:
Shaka Caye takes the stress out of your holiday planning with an all-inclusive package that covers not just accommodations but also delectable meals and local drinks. It's the perfect recipe for an indulgent and worry-free vacation. Plus, our all-inclusive package add-ons can take your vacation to the next level with adventures such as all-day fishing expeditions or a combination of fishing and snorkeling. Our romance add-on offers just the right dose of romantic perks to help you rekindle the love on our private island.
What's Included in Your All-Inclusive Package?
Comfortable accommodations in newly remodeled suites.
Delicious meals featuring local and international flavors.
Local drinks to keep you refreshed throughout your stay.
Boat transfers from Belize City to the island, ensuring a smooth and scenic journey.
Newly Remodeled Villas:
Experience the perfect blend of comfort and island charm in our recently upgraded villas. Your home away from home is designed to enhance your relaxation and ensure your stay is nothing short of extraordinary. Wake up to the breathtaking views of the Caribbean Sea from your window's view. Open your doors, step onto your private deck, and take in the fresh sea breeze—this is what paradise is about.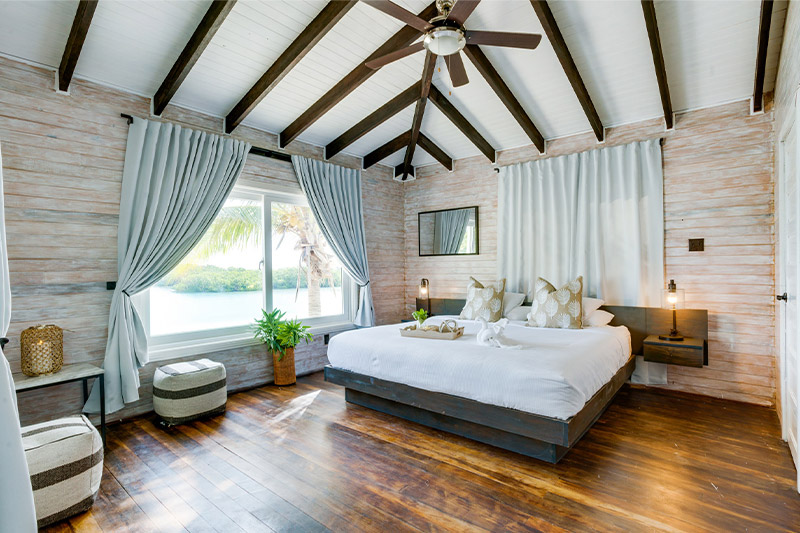 Beachfront Celebrations:
Picture your year-end celebrations on a private beach in Belize, surrounded by the rhythmic sounds of the Caribbean Sea. Shaka Caye ensures your beachfront festivities are not just magical but also hassle-free as part of our all-inclusive experience. For an even more exclusive stay, our island rental package offers the whole island as your playground for just you and your loved ones, perfect for a family-style holiday event.
Underwater Adventures:
Dive into the vibrant depths of Belize's rich marine life. Why limit your vacation to just relaxing on the beach? Dive into some of Belize's best underwater adventures, including boat trips to the stunning Barrier Reef. Snorkel alongside tropical fish and vibrant corals, creating memories that will last a lifetime. Spend time fishing at hot spots just off the island, and let your catch of the day be your meal for the night, as our chefs will gladly prepare a delicious meal with your catch as the highlight.
Local Dining with an Ocean View:
Indulge in the flavors of Belize with our locally inspired culinary experiences, all included in your stay. Enjoy sumptuous meals with an ocean view, immersing yourself in the unique blend of Belizean culture and cuisine.
Create Cherished Memories in Belize:
Shaka Caye Island Resort is not just a destination; it's an invitation to experience the extraordinary without worrying about additional costs. As the year winds down, embrace the magic of a Belize all-inclusive retreat that seamlessly blends accessibility, comfort, and natural beauty. Make this year-end memorable with Shaka Caye, where every moment is crafted to be cherished.
Your Extraordinary Adventure Awaits:
October, November, and December are not just months on the calendar at Shaka Caye Island Resort—they're an all-inclusive ticket to paradise. Book your worry-free year-end escape now and savor the magic of Belize. Whether you choose just a villa with breathtaking views or opt all in for an exclusive island rental for your holiday event, every moment at Shaka Caye is crafted to be cherished. Your worry-free adventure awaits—secure your slice of paradise in Belize today!