Island Life at Its Best…
Are you ready to escape to a tropical paradise that epitomizes the essence of summer? Look no further than Shaka Caye Island Resort, the ultimate destination for your Belizean island vacation. With its breathtaking beauty, friendly staff, and a myriad of activities, Shaka Caye is the perfect place to create memories that will last a lifetime.
When it comes to summer in Belize, Shaka Caye Island Resort stands out as a haven for couples and families seeking an unforgettable getaway. Located in the heart of the Caribbean Sea, Belize offers a stunning natural landscape with pristine beaches, lush rainforests, and perfect 80° beach-time temperatures. Shaka Caye embodies the essence of Belizean charm, providing an intimate and exclusive experience for its guests.
Imagine waking up to the soothing sound of waves lapping against the shore, knowing that a day of adventure or relaxation lies ahead. At Shaka Caye, you'll find a range of accommodations to suit your preferences, from cozy Studio Oceanview rooms to luxurious Beachfront villas that offer stunning views of the Caribbean Sea. Our friendly and attentive staff will ensure your stay is nothing short of exceptional, catering to your every need.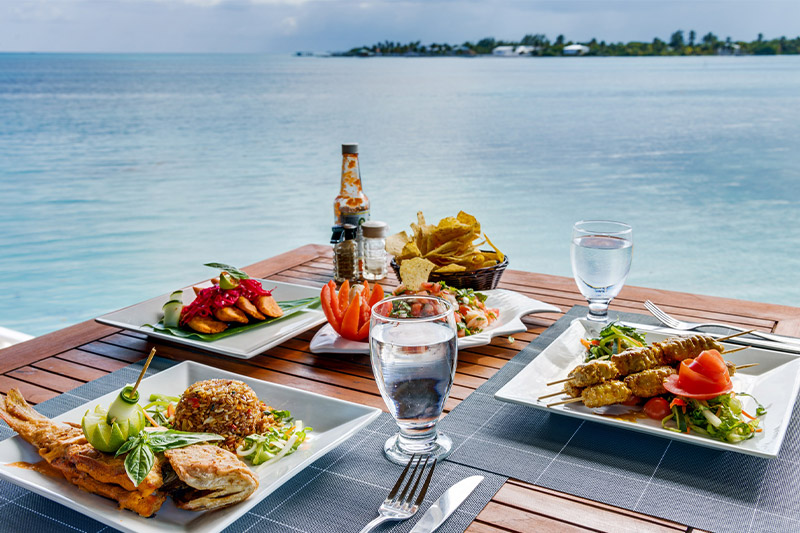 One of the highlights of any Belize vacation is the incredible cuisine, and Shaka Caye doesn't disappoint. Indulge in a culinary journey that celebrates the flavors of Belizean cuisine. From fresh seafood straight from the Caribbean waters to tropical fruits bursting with flavor, every meal at Shaka Caye is a feast for the senses. With meals included in your all inclusive package, you can savor the mouthwatering delights worry-free.
While the accommodations and cuisine are superb, it's the range of tours and activities that truly sets Shaka Caye apart. Dive into the crystal-clear waters and discover an underwater world teeming with vibrant marine life. Snorkeling and scuba diving enthusiasts will be in awe of the Belize Barrier Reef, a UNESCO World Heritage site known for its rich biodiversity. Certified instructors are on hand to guide you through this aquatic wonderland, which includes renowned sites such as the famous Blue Hole, and with attractions so near to the island, marine adventures are never out of reach!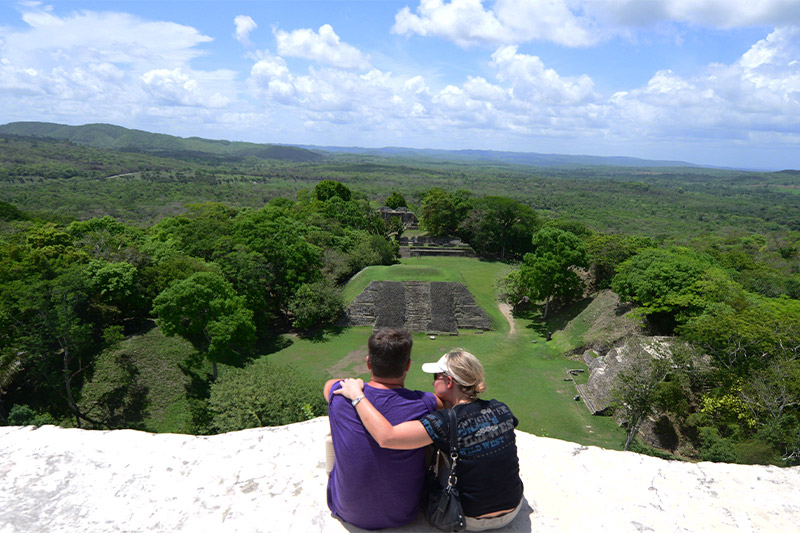 If you prefer to keep your feet on solid ground, there's still plenty to explore. Embark on an adventure through the lush rainforests of Belize's mainland, where you can zip-line through the canopy, float through underground caves, or even spot exotic wildlife. For those interested in Mayan history, a visit to ancient ruins like Xunantunich or Altun Ha will transport you back in time, offering a glimpse into Belize's rich cultural heritage. Combine cave-tubing with Maya Ruin exploration for a fun-packed inland adventure.
At the end of each day, as the sun dips below the horizon, you'll find yourself in awe of the beauty that surrounds you. Unwind with a refreshing drink in hand, feeling the warmth of the sand beneath your feet, and take in the breathtaking views. Shaka Caye offers the perfect setting for romantic strolls along the beach or quality time with loved ones under a starlit sky. Additionally, the bar under the palapa invites you to meet new friends and share memorable moments as you engage in conversations and connect with fellow travelers.
When you choose Shaka Caye Island Resort for your Belize summer vacation, you're not just booking a stay; you're embarking on a journey of a lifetime. With its pristine beaches, warm hospitality, and an array of activities both on and off the island, Shaka Caye promises to create unforgettable memories that will leave you yearning to return. Our commitment to maintaining the beauty of our surroundings extends to the pristine beach, where our dedicated team graciously wakes up early each morning to clean sargassum and ensure a pristine shoreline and crystal-clear waters. So why wait? Plan your dream all inclusive Belize getaway today and experience island life at its best with us.