Belize Scuba Diving Tours
Shaka Caye has some of the best SCUBA diving tours in Belize from its secluded location mere minutes from the barrier reef. The coral reef system, a UNESCO World Heritage Site, is home to more than 500 species of fish, as well as sea turtles, dolphins, spotted eagle rays, and numerous invertebrates. Our island's proximity to the reef means you can dive in the morning, return for lunch, and dive again in the afternoon – combining the benefits of a live-aboard dive trip with the comforts and service of a private island resort.
These diving tours can be booked individually or as an add-on to one of our packages.
Our guests can enjoy two dives each morning from professional dive leaders and instructors. All gear, along with snacks and beverages are provided, and due to our convenient location, guests can enjoy lunch at the resort and take an additional dive in the afternoon. Night diving over the reef is spectacular and offered upon request.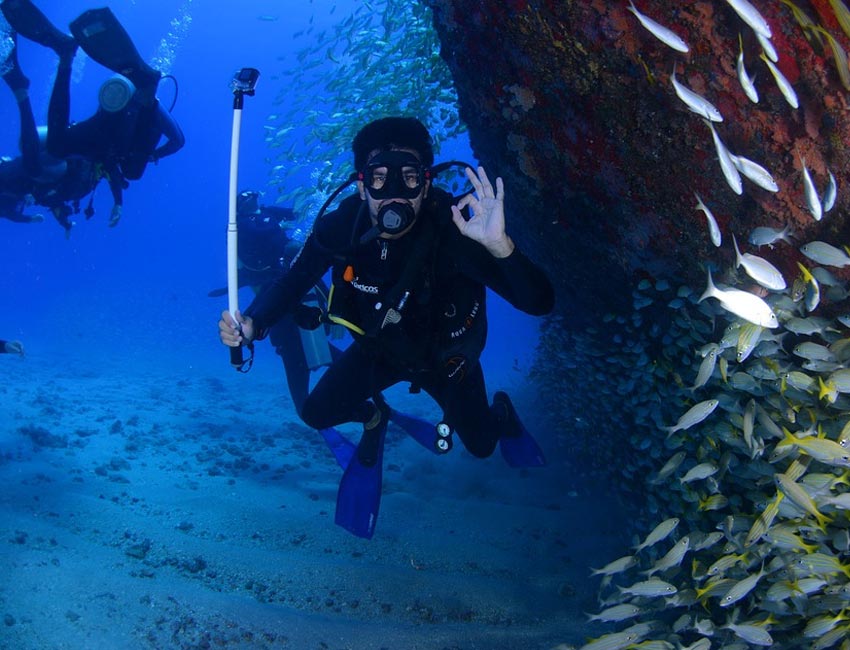 Diving is a way of life at Shaka Caye. Our Diving affiliates have over 40 years of combined diving experience. Our professionals will help you plan your diving itinerary step-by-step, along with any refresher courses needed or certifications desired. A comfortable and safe atmosphere is provided for every diver with our limited group sizes, customized dive boats, and attention to each individual diver's skill and experience level. Our affiliates set up your gear for each dive, clean and store your gear after diving, and take care of any needs and special requests.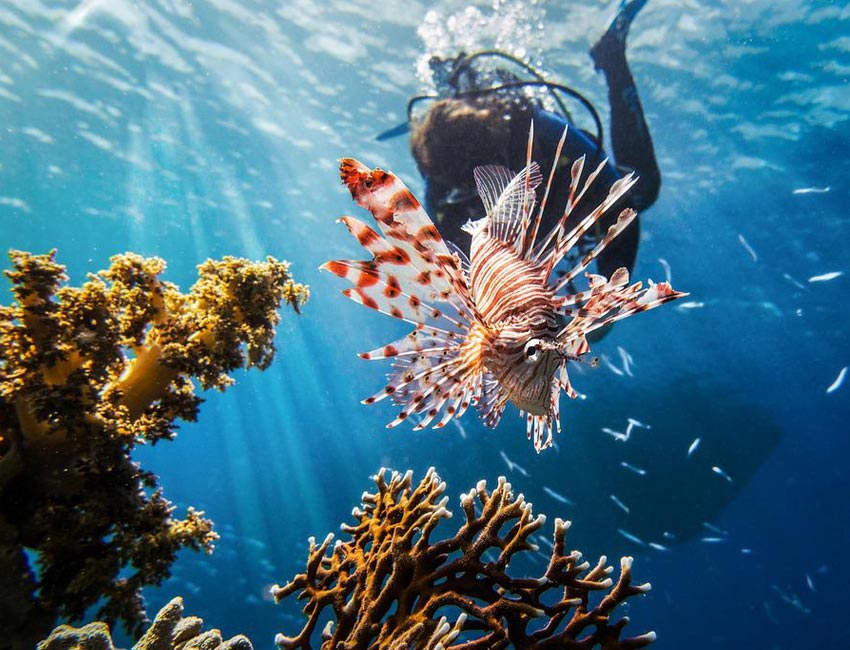 In order to help control the invasive lionfish population around Belize, our dive affiliates often take spear guns with them. The excitement of the hunt – stalking the spiny fish, getting in position for the shot, and pulling the trigger – is exhilarating. We offer the opportunity to join in the fun to our guests, who are competent divers. There is a surcharge for this specialty dive, but we also give credit for your catch! And with some luck, we can bring back enough for the chef to prepare as appetizers for everyone – it's a delicious white fish!
Note: Diving is weather dependent and may have a minimum number of divers to go out. An additional $100 may apply for transportation to the dive shop. Divers who have not dived for 2 years will require a refresher course. 
Blue Hole Dive
US$350/per person
Caye Caulker Marine Reserve Dive
US$120/per person
Esmeralda Dive
US$150/per person
Night Dive
US$85/per person
Spanish Bay Dive
US$195/per person
Turneffe Atoll
US$150/per person
Dive Certifications
Contact us for pricing
Belize is a scuba diver's dream, with hundreds of dive sites on the largest barrier reef in the Western Hemisphere. Shaka Caye's secluded location away from other dive resorts means that nearby sites are virtually always free of other divers and are healthier and more pristine than other frequently-dived areas in Belize. We can also take you to bucket-list dive sites such as the Great Blue Hole and Turneffe Atoll.
Hol Chan is a marine reserve abundant in wildlife, located about an hour north of Shaka Caye, close to the island of Ambergris Caye. The name means "Little Channel" because there is a cut in the reef allowing marine creatures to travel between the inside of the reef and the open ocean.

Over 160 species of fish have been seen in the reserve, along with many types of coral, sponges, sea turtles, and marine mammals. Rays are common at the bottom of the channel, and lobsters, eels, and sea anemones live among the nooks and crannies. This is a great place to see the variety of what the Belize reef has to offer! Shaka Caye offers weekly trips to San Pedro so guests can dive at Hol Chan Marine Reserve and other notable sites off Ambergris Caye.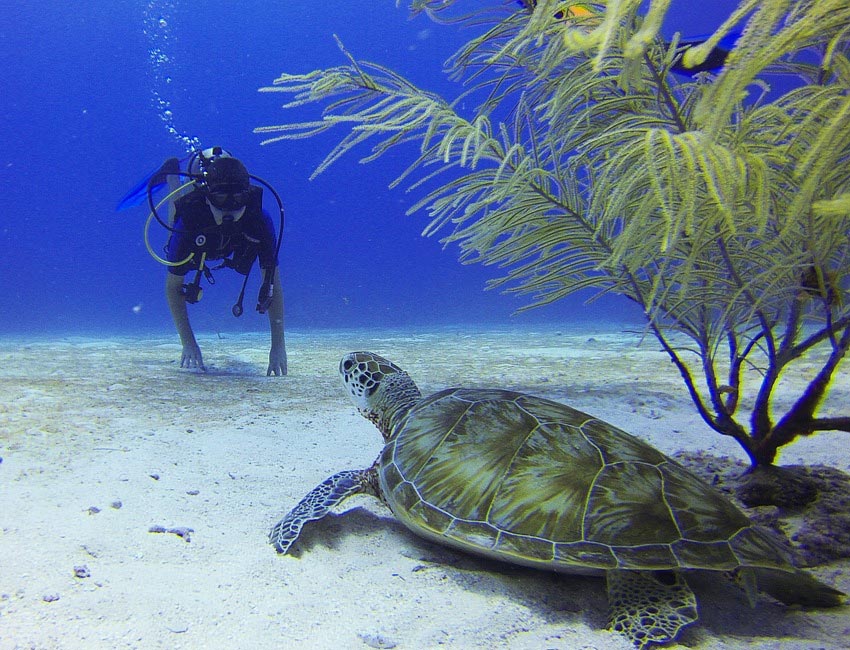 The most sought-after dive destination in Belize – The Great Blue Hole, is a giant underwater cavern 43 miles off the coast of Belize. The hole is circular in shape, over 300 meters (984 feet) across and 108 meters (354 feet) deep, and was formed when sea levels were much lower thousands of years ago. As ocean levels began to rise, the cave was flooded. The Great Blue Hole is part of the Lighthouse Reef and larger Belize Barrier Reef Reserve System and was made famous by Jacques Cousteau, who declared it one of the top ten scuba diving sites in the world.
Today the Great Blue Hole is a UNESCO World Heritage Site and remains one of the top dive sites in the world. St. George's offers a full-day dive trip to the Blue Hole for experienced and advanced divers. To fully appreciate the wonders of this incredible site, we descend to a depth of more than 100 feet, and therefore divers are required to have their Advanced Open Water certification.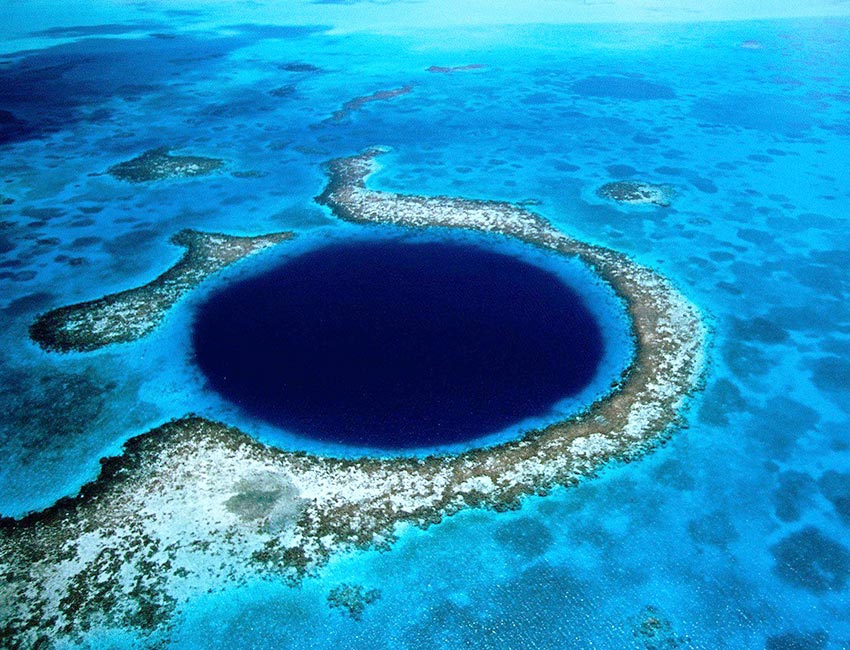 Turneffe Atoll is a group of small islands off the coast of Belize. It is approximately 30 miles long and 10 miles wide, making it the largest coral atoll in the Mesoamerican Barrier Reef System. The atoll was officially declared a marine reserve in 2012 because it is home to many important marine species. The land and seascape consist of a network of flats, creeks, and lagoons dotted by more than 150 mangrove islands. Large expanses of intact mangroves, seagrass habitats, and shallows provide important nursery functions for a wide array of fish species, crocodiles, lobster, conch, and other invertebrates. It is home to more than 500 species of fish, 65 species of stony corals, sea turtles, manatees, dolphins, seabirds, and other wildlife.
Turneffe is about a 30-minute boat ride from Shaka Caye and offers some of the best wall dives in Belize. Ask about upgrading one of your morning two-tanks to dive at Turneffe.